L-R - Jayme Black - Vocals/Bass, Nate Pole - Drums/Vocals, Benny Kemp - Guitars/Vocals

Vancouver's pulse-pounding Rebel Priest wants to tap into that adrenaline that is at the end of a shitty day or a shitty situation with their new single "War Horse" coming off a yet-to-be-titled album set for release next year. It promises to be the wrecking ball to get you out of that funk and get those motors revving! Along with this deadly new tune, they are announcing an eight-stop tour in Japan this October. The band shares their enthusiasm for the truest vision of their signature Trash n' Roll:

"It's gonna be the best song to light some new fires in "on the fencers" and the new generation of rock n rollers. It's a sing-along titan of a song full of teeth-gritting, fist-pounding primal aggression. It's a statement without politics, it's a feeling without emotions, it's a way to move without moving. It's the first taste of an amazing upcoming album."

According to Rebel Priest, "War Horse" was originally just an idea they had for a video they will never be able to afford to feature our unnamed anti-hero on a space bike cruising through the universe. The track embodies the idea of trash n' roll in the sense that most folks don't see vagabonds as equal people but they keep rolling, always making time for trash n' roll! It's the band's way of saying "f*ck 'em" to everyone that doesn't respect you or your path. If it's you against the world, here's the warhorse you can ride into battle!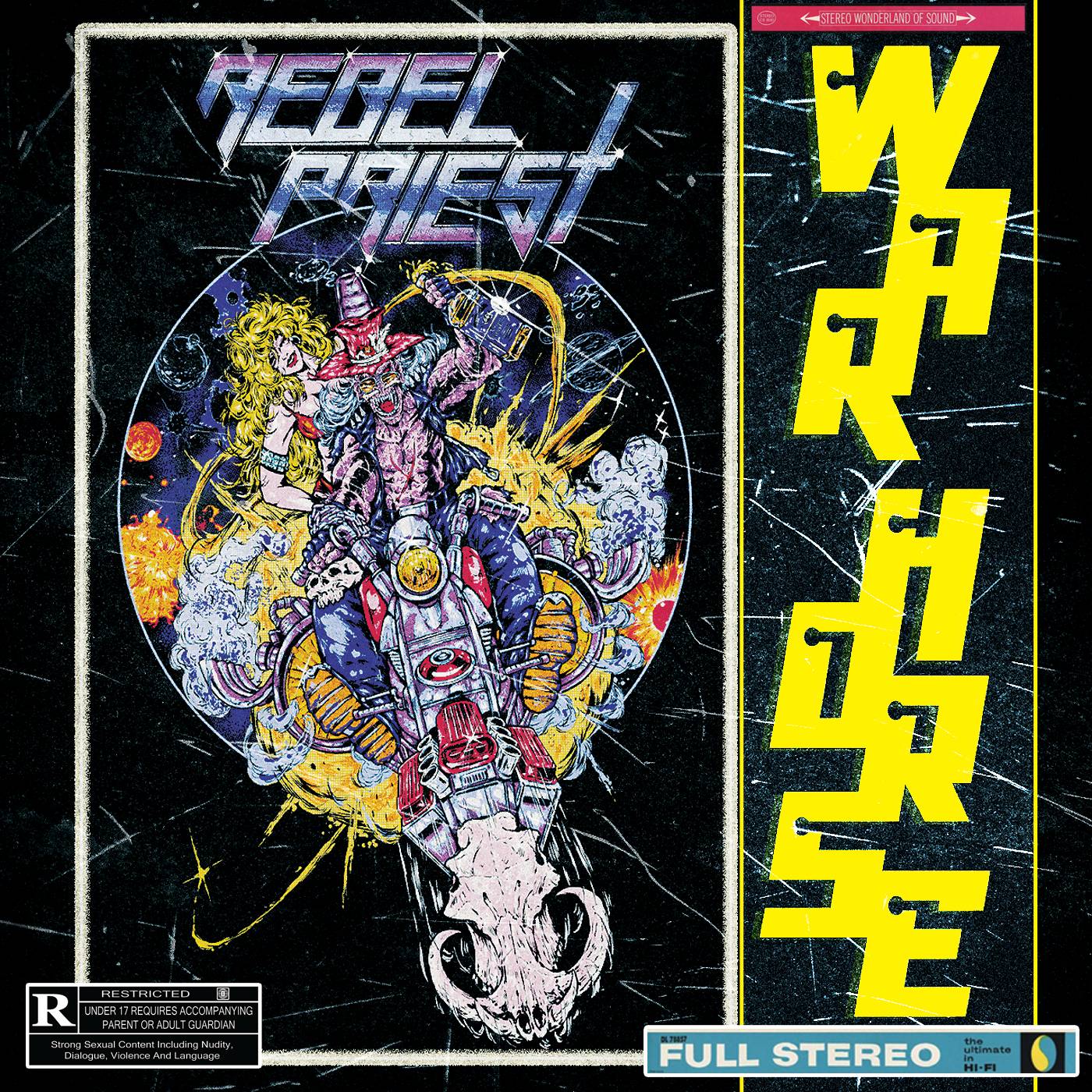 With two EPs and three raging albums already under their belts, this next one is just the tip of another high-octane iceberg! They have a load of tracks ready for the studio and this is just the first single - fans of Motörhead, ZZ Top, and Rose Tattoo are gonna want to keep their pants on and their eyes peeled for what Rebel Priest is bringing down the pipe.

Listen to "War Horse" at https://youtu.be/utKC4ikRbW8​

Digital - https://distrokid.com/hyperfollow/rebelpriest/war-horse​

​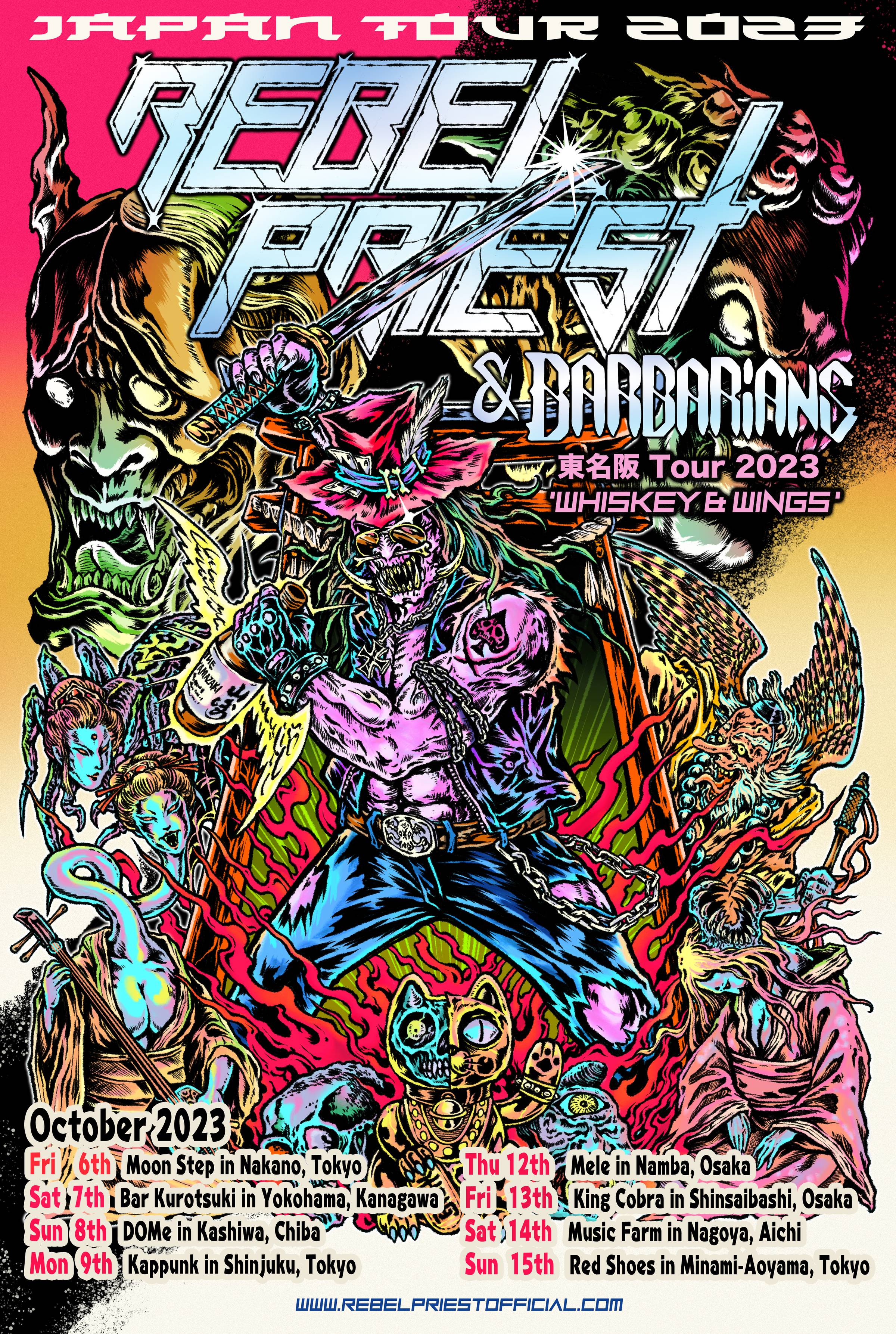 ​


Rebel Priest 'Whiskey & Wings' Japan Tour 2023 w/ Barbarians​
Oct 6 - Moon Step - Nakono, Tokyo
Oct 7 - Bar Kurostuki - Yokohoma, Kanagawa
Oct 8 - DOMe - Kashiwa, Chiba
Oct 9 - Kappunk - Shinjunku, Tokyo
Oct 12 - Mele - Namba, Osaka
Oct 13 - King Cobra - Shinsaibashi, Osaka
Oct 14 - Music Farm - Nagoya, Aichi
Oct 15 - Red Shoes - Minami-Aoyama, Tokyo

More info:​
​Rebelpriestofficial.com​
​Facebook.com/rebelpriestofficial​
​Instagram.com/rebelpriestofficial​

About:
Rebel Priest is a no-nonsense, real-deal rock n' roll band composed of three seasoned musicians who have been making their way through the Western Canadian rock n roll scene for years. Vocalist/bassist Jayme Black (Lust Boys, The Toxiks); guitarist/vocalist Benny Kemp (Lust Boys, Road Rash); and drummer/vocalist Nate Pole (Kill Matilda, The Toxiks) bring nothing but unadulterated, high-energy grease infused Trash N' Roll!

The band has had the pleasure of touring Japan, and performing alongside bands such as Udo (Accept), Lordi, Diamond Head, Crystal Pistol, Flotsam, and Jetsam along with playing many headlining gigs with the energy of Motorhead meets Motley Crue. Since forming in 2014, the band has released three studio albums "R'ley Heavy" (2019), Enabler (2017 ), and Self-Titled (2015) along with one live record "Dead Alive @ SBC (2017).

In June 2022, they offered up a slab of new music in the shape of a new EP "Lesson In Love" via Batcave Records/Thundermoose Entertainment to follow their 2021 EP "Lost In Tokyo". The EP "Lesson In Love" was four tracks that ready fans to hear the band's NWOTHM influences along with their brand of slurry heavy Rock n Roll.

Now in 2023, the band is crossing the Pacific to tour Japan in October along with working on a new album still in the works for release in 2024 along with giving fans a tase of what's to come with their single "War Horse" being dropped in September 2023.

Rebel Priest is recommended for fans of Guns n' Roses, AC/DC and Motley Crue.



"Reminded me of the early Iron Maiden Days" – Metal-Temple

"This record is full of gritty, down 'n' dirty fun with a spiked metal grip" – Bravewords

"Great stuff for cracking open a cold one and blasting down the highway at an illegal rate of speed" – Rebelx

"Combination of AC/DC, Guns N Roses, and Motley Crüe would be how I describe them, with the added Motörhead to bring for flames to the fire on occasion" -The Razors Edge

"Pay attention to Rebel Priest's rock n roll homily, because they preach rock n roll, you'll be converted to their hard rock cult" - MetalTemple

"For fans of bands like Motley Crüe and the likes, Rebel Priest may be the right thing and if you are looking for dirty rock with beer loving lyrics for a night of drinking, you will find it at Rebel Priest" - Hellfire Magazine

"Rebel Priest stands for fast and hard rock n roll." - Soundmagnet

"A blast of high-powered hard rocking energy" -Games, Brrrains & a Head-Banging Life


ASHER MEDIA RELATIONS