L-R: Tommy Wolffe (Bass. Vocals), Bobby Deuce (Guitar), Angus Pike (Drums)
Photo Credit: Megan Kay
A blend of hard rock, punk, and metal, Deadwolff set themselves apart from other bands with their take on the New Wave of Heavy Rock and Roll. Recommended for fans of Judas Priest, Motorhead, and W.A.S.P, Deadwolff's is a revival of foot-tapping, beer-drinking, headbanging tunes, and more. They are touring across the United States and Canada this May and June in support of their forthcoming debut full-length "Heavy Rock N' Roll" due out on March 31st via Golden Robot Records.
Music Video - Heavy Rock n' Roll - https://youtu.be/kAiNlEmDkZk​
Music Video - Homeward Bound - https://youtu.be/iPC0z5J3Xnc​
Album-pre-save - https://linktr.ee/deadwolff​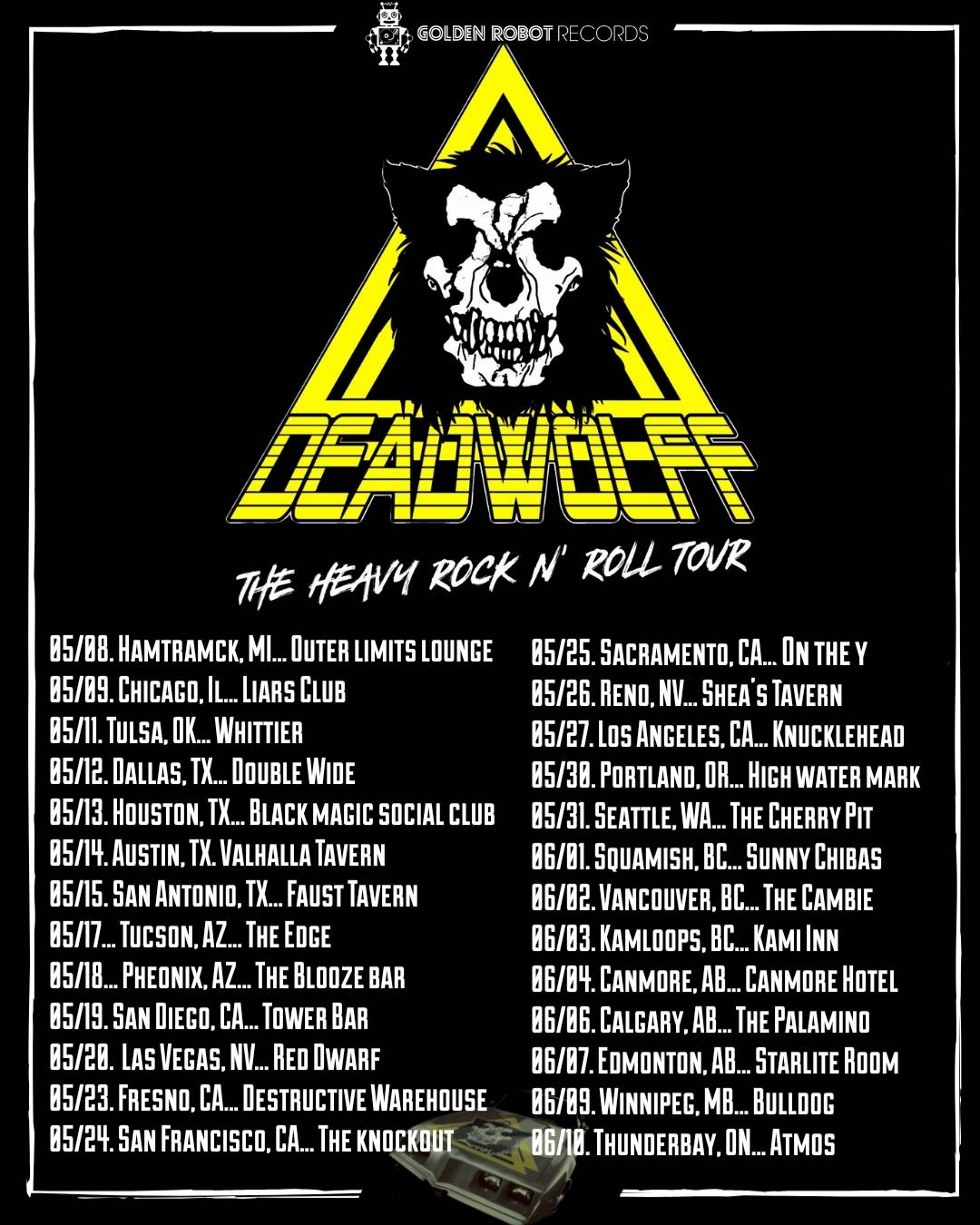 May ​
8 - Outer Limits Lounge - Hamtramck, MI
9 - Liars Club - Chicago, IL
11 - Whittier - Tulsa, OK
12 - Double Wide - Dallas, TX
13 - Black Magic Social Club - Houston, TX
14 - Valhalla Tavern - Austin. TX
15 - Faust Tavern - San Antonio, TX
17 - The Edge - Tuscon, AZ
18 - The Blooze Bar - Pheonix, AZ
19 - Tower Bar - San Diego, CA
20 - Red Dwarf - Las Vegas, NV
23 - Destructive Warehouse - Fresno, CA
24 - The Knockout - San Francisco, CA
25 - On the y- Sacramento, CA
26 - Shea's Tavern - Reno, NV
27 - Knucklehead - Los Angeles, CA
30 - High Water Mark - Portland, OR
31 - The Cherry Pit - Seattle, WA
​
​June ​
1 - Sunny Chibas - Squamish, BC
2 - The Cambie - Vancouver, BC
3 - Kami Inn - Kamloops, BC
4 - Canmore Hotel - Canmore, AB
6 - The Palamind - Calgary, AB
7 - Starlite Room - Edmonton, AB
9 - Bulldog - Winnipeg, MB
10 - Atmos - Thunder Bay, ON
For more info: Facebook.com/officialdeadwolff | Instagram.com/deadwolff.official
​
ASHER MEDIA RELATIONS
Jon Asher – Music Publicist